Happy 90th Birthday to The Queen and memories of Ooty
We have been posting about memories the Royal Tour has been bringing back and a post on the Queen's 90th birthday is along similar lines. It reminds us of a time when we lived in Ooty, in the Nilgiris, or Blue Mountains, in South India.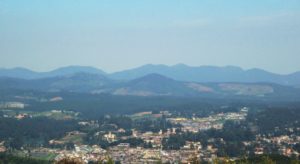 The Mountains in Ooty are not quite as high as the Himalayas, but are very pleasant and are also known for their beauty, the lake and tea estates, amongst other things.
Picking strawberries, Plums from the plum trees in the back, peaches in a friend's garden, picnicking on the picturesque spots such as Doddabetta and Lamb's Rock, visiting nearby elephant sanctuary in Kodaikanal, travelling up using the narrow gauge Nilgiri 'Blue Hills' train, and enjoying beautiful flowers including hydrangeas and morning glory in the garden is a fond memory.
As children we were intrigued with the Queen's head being featured on British stamps, (as most other stamps we came across were pretty varied)-the only difference appeared to be the colours of the stamps. These consistently appeared from time to time as and when new stamps were issued.  Quite similar to those stamps, the quiet dignity with which Her Majesty carries on with her duties year after year (several of them in any given day), almost seems to tie in with consistent regularity of the appearance of those stamps.
Having seen the Royal family constantly equated to 'any other family' and knowing that a lot more is expected of them despite this 'equation', we would like to mark the Queen's 90th birthday with sincere congratulations.
As quoted by someone quite rightly on being the longest reigning Monarch, the Queen has had 'a singular reign, and a singularly successful reign at that'. And we think it is fitting that we use the image that made the stamps from our childhood in the Nilgiri Hills so intriguing and unwaveringly constant. Happy birthday, Your Majesty!  (All images of the queen Courtesy Twitter; images of Ooty, Courtesy Wikipedia)