Jasmine White London is about fine handcrafted pieces for living with and giving.
Jasmine White was created to reflect my love of all things fragrant and fine, handcrafted and finished to a high standard. I draw my inspiration directly from my life in both India and the UK. Production uses traditional crafts and skills from communities in India which have been inherited through generations. This helps sustain communities that would otherwise be displaced due to increasing urbanization. A passion for colour and distilled, elegant design that inspires pleasure and style lies at the heart of every Jasmine White Product.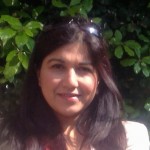 "The beautiful, white Jasmine flower, is my inspiration. It's sweet scent on a warm summers evening that winds its way through your senses, softly enchanting you and adding a marvellous fragrance to your surroundings is endearingly captivating."  Supriya Broadbent
We have a growing number of stockists throughout the UK and we also attend fairs and exhibitions. Please contact us if you would like any further information.